Rakesh Jain
Director, A.W. Cook Professor of Tumor Biology
Jain Lab Research
For four decades, my research has focused on one challenge: improving the delivery and efficacy of anti-cancer therapeutics by normalizing the tumor microenvironment. Working on the hypothesis that the abnormal tumor microenvironment fuels tumor progression and treatment resistance, we developed an array of sophisticated imaging technologies and animal models as well as mathematical models to unravel the complex biology of tumors. Using these tools, we demonstrated that the blood and lymphatic vasculature, fibroblasts, immune cells and the extracellular matrix associated with tumors are abnormal, and these collaborate together to create a hostile tumor microenvironment characterized by hypoxia, low pH and high interstitial fluid pressure and solid stress. We next hypothesized that agents that induce "normalization" of the microenvironment can improve the treatment outcome. Indeed, we demonstrated that judicious use of antiangiogenic agents—originally designed to starve tumors—could transiently "normalize" tumor vasculature, alleviate hypoxia, increase delivery of drugs and anti-tumor immune cells, and improve the outcome of various therapies, including immunotherapy (Science 2005, 2019, 2020). In parallel, we provided compelling evidence for vascular normalization in cancer patients treated with antiangiogenic agents. In fact, vascular normalization and the resultant improvement in tumor perfusion and oxygenation associated with longer survival in patients (J Clinical Oncology 2013; Cancer Cell 2014; PNAS 2015). Our preclinical finding that vascular normalization can improve immunotherapy (PNAS 2012) was confirmed by others in randomized phase III trials on combining antiangiogenic therapy with immune-checkpoint inhibitors for lung, kidney, liver and endometrial cancers (New England J Medicine 2018, 2019, 2020), and led to the FDA approvals of six such combinations of antiangiogenic therapy and  immune-checkpoint inhibitors for these cancers (Science 2019).
 The normalization hypothesis also opened doors to treating various non-malignant diseases characterized by abnormal vasculature that afflict >500 million people worldwide, such as, tuberculosis (PNAS 2015) and neurofibromatosis-2 (NF2) (New England J. Medicine 2009). Based on our findings, bevacizumab was approved for NF2-schwannoma patients in UK in 2014. This hypothesis has also been validated by a number of laboratories worldwide and has changed the thinking about how antiangiogenic agents work alone and in combination with conventional and emerging therapeutics (Science 2005; New England J. Medicine 2009; Nature Rev Drug Discovery 2011; Physiological Rev 2011; Cancer Cell 2014; Nature Reviews Clinical Oncology 2018; Science 2019). 
 Finally, we discovered that anti-hypertensive drugs capable of "normalizing" the tumor matrix and stromal cells can reprogram the tumor microenvironment to an immunostimulatory milieu and improve the delivery and efficacy of cancer therapies, including immunotherapy (Nature Comm 2013; Cancer Discovery 2016; Science Translational Medicine 2017; PNAS 2019, 2020). A phase II trial (NCT01821729) led by my clinical collaborators provided compelling evidence in support of this emerging concept for improving the treatment outcome for patients with pancreatic ductal adenocarcinoma – a uniformly fatal disease (JAMA Oncology 2019). 
Rakesh K. Jain receives National Medal of Science at the White House! ->Click here for the webcast.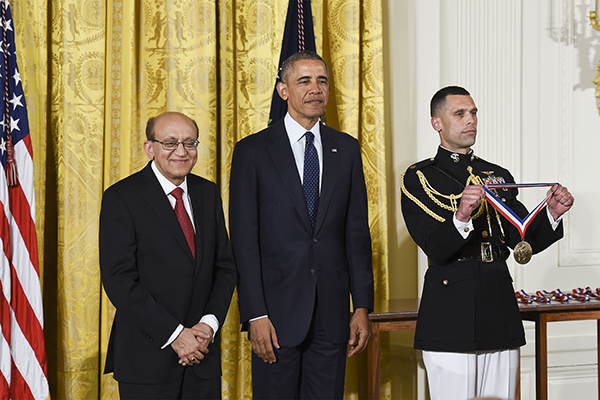 Lab News
Dr. Rakesh Jain has been recognized by ClarivateAG as a Highly Cited Researcher - 2023!
Congratulations on this achievement!
Rakesh Jain listed as a "Best Scientist" by Research.com
Research.com, a leading academic platform for researchers, has just released the 2023 Edition of its Ranking of Best Scientists in the field of Medicine.
Rakesh Jain was ranked #59 in the world ranking and #41 in United States. He has also been recognized with their Medicine Leader Award for 2023. Congratulations, Rakesh!
Mechanistic model for booster doses effectiveness in healthy, cancer, and immunosuppressed patients infected with SARS-CoV-2
Current SARS-CoV-2 vaccines are effective at preventing COVID-19 or limiting disease severity in healthy individuals, but effectiveness is lower among patients with cancer or immunosuppression. A team led by Drs. Jain, Stylianopoulos and Munn predict vaccine effectiveness over time by building a mathematical framework to account for vaccination-induced immunity. A booster dose of both mRNA vaccines can induce a robust enhancement of both antibody levels and numbers of pertinent types of adaptive immune cells, which is predicted to provide sufficient protection for more than 1 y in healthy patients. However, the model suggests that for immunosuppressed people or patients with cancer receiving an immunosuppressive treatment, the booster effect may wane and should be given boosters on a more frequent basis.
Rakesh Jain named "Highly Cited Researcher" for 2022
Each year, Clarivate™ identifies the world's most influential researchers ─ the select few who have been most frequently cited by their peers over the last decade. In 2022, fewer than 7,000, or about 0.1%, of the world's researchers, in 21 research fields and across multiple fields, have earned this exclusive distinction.

Rakesh Jain is among this elite group recognized for exceptional research influence, demonstrated by the production of multiple highly-cited papers that rank in the top 1% by citations for field and year in the Web of Science™.

Rakesh Jain to Receive 2022 Szent-Györgyi Prize for Progress in Cancer Research
The National Foundation for Cancer Research (NFCR) announced today that Rakesh K. Jain, Ph.D., has been selected to receive the 2022 Szent-Györgyi Prize for Progress in Cancer Research. The blue-ribbon Prize selection committee, consisting of renowned leaders in cancer research, elected Dr. Jain for his pioneering research and breakthrough discoveries on overcoming barriers posed by the tumor microenvironment (TME) which led to the improved delivery and efficacy of anti-cancer medicines. His groundbreaking and innovative research has fundamentally transformed the understanding of tumor biology and directly informed the development and approval of new drug-combinations to treat cancer patients.
Jain Lab Team
Former Team Members
Adstamongkonkul, Pichet, BS
Ager, Eleanor Ivory, PhD
Amoozgar, Zohreh, PhD
Andersson, Patrik, PhD
Askoxylakis, Vasileios, MD
Batista, Ana, PhD
Chatterjee, Sampurna, PhD
Chauhan, Vikash Pal Singh, PhD
Chen, Ivy, PhD
Chen, Stacie, PhD
Datta, Meenal , PhD
Dong, Xinyue, PhD
Ferraro, Gino, Ph.D.
Ghosh, Mitrajit, PhD
Goel, Shom, BMMS
Grahovac, Jelena, PhD
Hato, Tai, MD, PhD
Ho, William
Huang, Yuhui, PhD
Jones, Jill
Jung, Keehoon, PhD
Kawaguchi, Kosuke, MD
Kirkpatrick, Ned, PhD
Kloepper, Jonas, MD
Kodack, David, PhD
Koppel, Christina, BS
Kozin, Sergey, PhD
Krishnan, Shanmugarajan, PhD
Kwanten, Wilhelmus, MD, PhD
Liu, Hao, MD
Lu-Emerson, Christine, MD
Martin, John, BS
Naxerova, Kamila, PhD
Ng, Mei Rosa, PhD
Pandey, Somnath
Peterson, Teresa, BS
Pinter, Matthias
Posada, Jessica, MD
Pruefer , Franz , MD, PhD
Pulluqi, Olja, BS
Ren, Jun, PhD
Riedemann, Lars, MD
Roberge, Sylvie, MS
Seano, Giorgio, PhD
Snuderl, Matija, MD
Steinbuch, Sophie
Talele, Nilesh, PhD
Taylor, Jennie, MD
Wang, Nancy, MD
Wong, Christina, PhD
Wu, Michelle
Jain Lab Careers
Selected Publications (from total of 774)
15