For four decades, my research has focused on one challenge: improving the delivery and efficacy of anti-cancer therapeutics by normalizing the tumor microenvironment. Working on the hypothesis that the abnormal tumor microenvironment fuels tumor progression and treatment resistance, we developed an array of sophisticated imaging technologies and animal models as well as mathematical models to unravel the complex biology of tumors. Using these tools, we demonstrated that the blood and lymphatic vasculature, fibroblasts, immune cells and the extracellular matrix associated with tumors are abnormal, and these collaborate together to create a hostile tumor microenvironment characterized by hypoxia, low pH and high interstitial fluid pressure and solid stress. We next hypothesized that agents that induce "normalization" of the microenvironment can improve the treatment outcome. Indeed, we demonstrated that judicious use of antiangiogenic agents—originally designed to starve tumors—could transiently "normalize" tumor vasculature, alleviate hypoxia, increase delivery of drugs and anti-tumor immune cells, and improve the outcome of various therapies, including immunotherapy (Science 2005, 2019, 2020). In parallel, we provided compelling evidence for vascular normalization in cancer patients treated with antiangiogenic agents. In fact, vascular normalization and the resultant improvement in tumor perfusion and oxygenation associated with longer survival in patients (J Clinical Oncology 2013; Cancer Cell 2014; PNAS 2015). Our preclinical finding that vascular normalization can improve immunotherapy (PNAS 2012) was confirmed by others in randomized phase III trials on combining antiangiogenic therapy with immune-checkpoint inhibitors for lung, kidney, liver and endometrial cancers (New England J Medicine 2018, 2019, 2020), and led to the FDA approvals of six such combinations of antiangiogenic therapy and  immune-checkpoint inhibitors for these cancers (Science 2019).
 The normalization hypothesis also opened doors to treating various non-malignant diseases characterized by abnormal vasculature that afflict >500 million people worldwide, such as, tuberculosis (PNAS 2015) and neurofibromatosis-2 (NF2) (New England J. Medicine 2009). Based on our findings, bevacizumab was approved for NF2-schwannoma patients in UK in 2014. This hypothesis has also been validated by a number of laboratories worldwide and has changed the thinking about how antiangiogenic agents work alone and in combination with conventional and emerging therapeutics (Science 2005; New England J. Medicine 2009; Nature Rev Drug Discovery 2011; Physiological Rev 2011; Cancer Cell 2014; Nature Reviews Clinical Oncology 2018; Science 2019). 
 Finally, we discovered that anti-hypertensive drugs capable of "normalizing" the tumor matrix and stromal cells can reprogram the tumor microenvironment to an immunostimulatory milieu and improve the delivery and efficacy of cancer therapies, including immunotherapy (Nature Comm 2013; Cancer Discovery 2016; Science Translational Medicine 2017; PNAS 2019, 2020). A phase II trial (NCT01821729) led by my clinical collaborators provided compelling evidence in support of this emerging concept for improving the treatment outcome for patients with pancreatic ductal adenocarcinoma – a uniformly fatal disease (JAMA Oncology 2019). 
Rakesh K. Jain receives National Medal of Science at the White House! ->Click here for the webcast.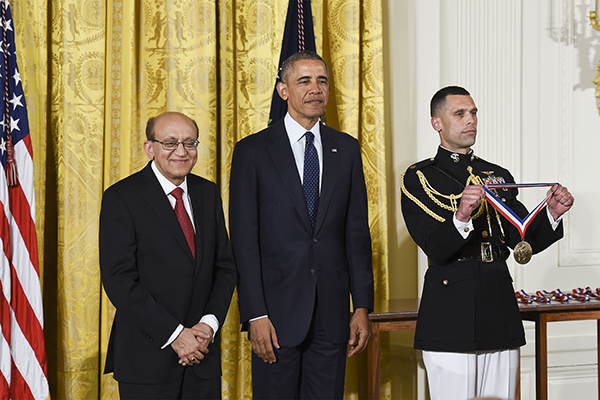 Lab News
Current Research
Selected Publications (from total of 764)
15